Choosing and using aluminium doors – windows in the design is increasingly popular, especially in building houses, villas, penthouses, high-class apartments… So, why are aluminium – uPVC doors and windows becoming the tendency for the current architecture?
Wooden doors and windows have appeared and existed for a long time and are no longer strange to architectural works. They are famous for their durability over time and their luxurious, environmentally friendly beauty. But gradually, wooden doors and windows lose their position to aluminium and uPVC doors and windows in the modern lifestyle.
We can find this through 4 criteria as follow:
1. Beautiful and high aesthetics
The design is simple, delicate but elegant. The ratio of width and length of the frame combined with the transparency from the glass brings an eye-catching but still balanced and healthy look.
Plastic doors usually have the milky white steel core, bringing a gentle, elegant and luxurious beauty. This type of door is commonly used in European countries.
Aluminium doors and windows often use powder coating to create uniformity and durability. Powder coating has many colors and is highly suitable for house architecture.
Home designs are often modern with a lot of natural light for the space. Therefore, wooden doors and windows become less popular compared to uPVC and aluminium ones
2. Lightweight
Weight is a minus point for wooden doors and windows. Wood door weight is quite high, bringing customer a heavy feeling when moving and using. Besides, it also creates great pressure for high-rise buildings.
Design space with lots of natural light requires large door area and wide glass wall. This is one of the advantages of aluminium and doors and windows.
3. Strange features
Wooden doors and windows are a traditional design for decades. Aluminium – uPVC doors and windows possess fresh features with a dynamic, youthful, modern lifestyle and integration into the 4.0 era. Architects can be freely creative in their designs, bringing a breakthrough to the architecture.
Aluminium – uPVC doors and windows create their own personality and style when easily combined with much different architecture.
4.Longevity and convenience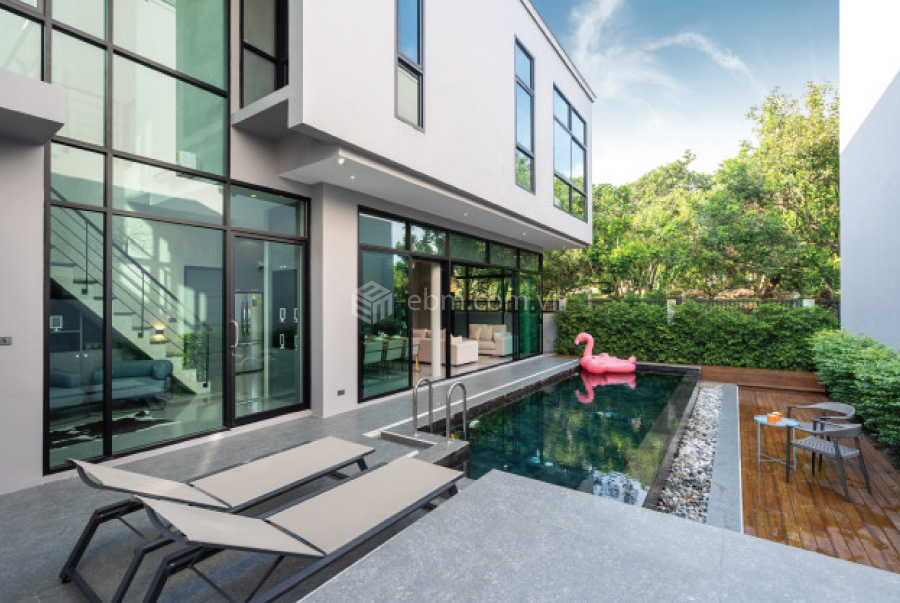 Aluminium is a soft, flexible material and is mixed with many other auxiliary materials to create a strong and sturdy frame, especially high-class aluminium doors meeting top quality standards and are strictly tested.
Aluminium doors are superior in durability compared with ordinary wooden doors. When possessing aluminium and uPVC doors, we do not have to worry about termites,rotting in humid – rainy and windy exposing environment.
Good soundproofing and  insulation bring comfort and convenience to our living space: a private and energy-saving space in the hot season or simply catching the early morning sunlight through the glass window…
It is not difficult to understand when aluminium and uPVC doors are popular in today's design because they possess such great features.
🔎More information: The most popular and beautiful models of aluminium doors and windows today